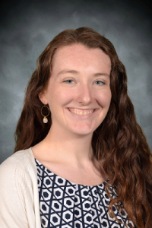 Danae Harlow
about the teacher
Danae grew up in Salem, OR and attended a classical Christian school. In 3rd grade she was introduced to Latin, and it quickly became her favorite subject. In high school she had a dynamic Latin teacher who really made Latin come alive and feel like a real language; it was then, at age 15, she knew God was calling her to be a Latin teacher who makes Latin fun and profitable for her students.
With that goal in mind, Danae moved to Moscow, ID in 2010 and attended New Saint Andrews College, where she took every Latin class she could. While in college she taught a few math and science classes at a local homeschool coop, and also worked for NSA tutoring other Latin students. She landed her dream job of teaching JH & HS Latin at Logos School (Moscow, ID) in 2013. She spends her days acting out Latin words and scenes, simplifying difficult grammar concepts, and encouraging students to make Latin their own.
In 2017 Danae married Jordan Harlow, and they live in Moscow with their two cats and two horses. Other than teaching and tutoring Latin, Danae's hobbies include teaching horse riding lessons, directing JH & HS …
Show More
Education
B.A.
2014
Liberal Arts & Culture