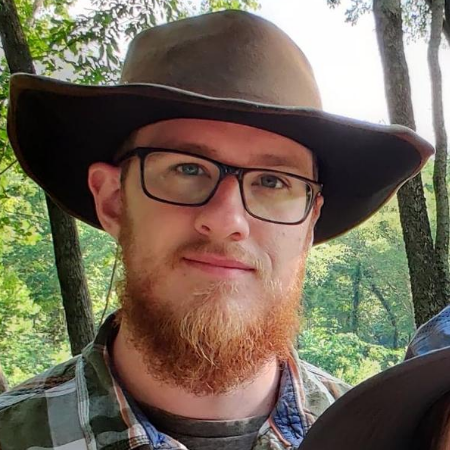 Matthew Hunter
about the teacher
Matthew Hunter is an outdoor educator with 8 years of experience studying and practicing wilderness living skills. His most intensive area of study has been plant identification botany and harvesting the wild food plants of North America. Matthew has harvested and consumed over 300 species of wild plants in a number of states, including Texas(where he was born and raised), Oklahoma, Missouri, Florida, Tennessee, Montana, Idaho, Arizona, and Oregon.
Matthew has spent many nights camping and "roughin' it" in the remote backcountry all over the U.S., including over two months tent camping in the Bitterroot National Forest in Montana and Idaho, a 14 day solo trip in the Cohutta Wilderness of Georgia, 3 weeks camping and sleeping in primitive shelters at a wilderness survival school in Missouri, and a 6 day trip in the Ouachita Mountains of eastern Oklahoma.
About two years ago Matthew began to pursue the path of professional outdoor instruction, and as a result developed an online survival course called Fundamentals of Wilderness Survival- Essential Knowledge for Travel in the Backcountry, a course about preventing and surviving unexpected wilderness emergencies.
In February of 2020 Matthew received a Permaculture Design Certificate from the Sonoran Desert Permaculture Guild in …
Show More
Education
Permaculture Design Certificate
2020